Content
YAMAHA YS12 Compact High-Speed Pick Place Machine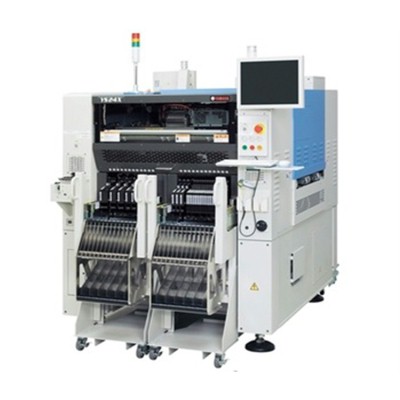 ❙ Features
1. This compact platform design (front view breadth 1,254mm) assure flexible line arrangement in your site
2. Both new designed 10 inline multi-heads and new recognition system ensure 36,000CPH(0.1sec/CHIP Equivalent : optimum condition)
3. Maximum feeder capacity 120 lanes
4. Applicable to large size PCB, L510 x W460mm
5. Built-in tape cutter available as an option
❙ Specification
YS12 (Model : KHY-000)

Applicable PCB

L510x~W460mm to L50x~W50mm

Through-put (Optimum)

36,000CPH(0.1sec/CHIP Equivalent)

Mounting accuracy (Yamaha's standard components)

Absolute accuracy (μ+3σ) : +/-0.05mm/CHIP
Repeatability(3σ) : +/-0.03mm/CHIP

Applicable components

0402(Metric base) to □32*mm components

*1

*Correspondence since Jan., 2010

Number of component types

120 types(Max, 8mm tape reel conversion)

Power supply

3-Phase AC 200/208/220/240/380/400/416V +/-10% 50/60Hz

Air supply source

0.45MPa or more, in clean, dry states

External dimension

*2

L1,254~W1,440~H1,455mm(cover top)
L1,464(End of extension conveyor)xW2,018(End of guide for feeder carriage)xH1,455mm(cover top)

Weight

Approx. 1,250kg
*1

Except ball type electrode components.
*2

This dimension does not include the projection.
❙ Related keywords
Pick and Place Machine,YAMAHA Pick and Place Machine,YAMAHA SMT Mounter,YAMAHA SMT Pick and Place Machine,Pick Place Machine,YAMAHA Chip Mounter,YAMAHA Shooter,YAMAHA SMT Placement,YAMAHA Chip Placement,High Speed Chip Shooter,YAMAHA Chip Shooter,SMT Chip Shooter,YAMAHA SMT,YAMAHA SMT Machine,YAMAHA M10,YAMAHA M20, YAMAHA S20,YAMAHA YS12,YAMAHA YS12F,YAMAHA YS24,YAMAHA YS24X,YAMAHA YSM10,YAMAHA YSM20,YAMAHA YSM20R,YAMAHA YSM20WR,YAMAHA YSM20W,YAMAHA YSM40,YAMAHA YSM40R,YAMAHA YC8,YAMAHA ∑-G5SⅡ,YAMAHA Σ-F8S,YAMAHA YG100.
❙ Main keywords
Reflow Oven,Pick and Place Machine,SMT Machine,SMT Line,Wave Soldering Machine,Reflow Soldering Oven,SMT Equipment,SMT Pick and Place Machine,Chip Mounter,PCB Cutting Machine,SMT Reflow Oven,Pick & Place Machine,SMD Soldering Machine,SMT Aoi,SMT Conveyor, SMT Solutions, Chip Shooter, PCB Cleaning Machine, Reflow Machine, PCB Soldering Machine, SMT Assembly Line, SMT Stencil Printer, PCB Reflow Oven, Reflow Soldering Machine, SMT Oven, Pick n Place Machine, SMT Production Line, Solder Paste Printer Machine, SMT Screen Printer, LED Pick and Place Machine, SMT Line Machine, LED Production Line, SMT Nozzle Cleaning Machine, LED TV Production Line.
❙ Video