Pick and Place Machine,YAMAHA Pick and Place Machine,YAMAHA SMT Mounter,YAMAHA SMT Pick and Place Machine,Pick Place Machine,YAMAHA Chip Mounter,YAMAHA Shooter,YAMAHA SMT Placement,YAMAHA Chip Placement,High Speed Chip Shooter,YAMAHA Chip Shooter,SMT Chip Shooter,YAMAHA SMT,YAMAHA SMT Machine

Model:YAMAHA YS24X Pick and Place Machine
Brief:
YAMAHA Pick and Place Machine 54,000 CPH, Applicable PCB Max: (L 700 x W 460 mm), Components 0402 to 45 x 100mm
Model:YAMAHA Chip Shooter YG100
Brief:
Yamaha YG100 Machine is Yamaha company specifically for high-speed universal machine output of a high efficiency, high-performance, high-precision Mounter

Model:YAMAHA SMT Mounter YS12F
Brief:
1. Handling capacity for mounting 20,000CPH (equivalent to 0.18sec/CHIP)
2. High flexibility for components: 0402 to 45*×100mm components, the height up to 15*mm, including ball type electrode components
3. Applicable to large size PCB, L510 x W460mm
4. Handles various kinds of tray package components by ATS15 Automatic Tray Supply Unit
5. Built-in Tape cutter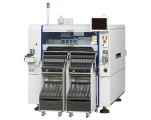 Model:YAMAHA YSM20WR
Brief:
1. World's fastest mounting speed in its class; 5% faster than the YSM20.
2. Featuring a new wide-scan camera with improved component adaptability.
3. Optional features improving line operating rate without stopping the machine
Newly-developed Auto Loading Feeder (ALF) that revolutionizes feeding tape components by eliminating reliance on user skill
sATS30NS Auto Tray Sequencer (ATS) for nonstop tray replacement
Nonstop feeder carriage exchange system

Model:Yamaha Pick and Place
Brief:
High speed Yamaha pick and place machine YSM20 it can support 03015 to 45 x 45 mm L100mm components. high speed, high accuracy, placement speed up to 90000 CPH, Yamaha pick and place machine is the one of the best around the word.

Model:Pick and Place Machine
Brief:
Aa a Multifunction Yamaha SMT pick and place machine YSM10, compact high-speed modular pick and place machine, excellent placement speed and placement accuracy, Yamaha SMT pick and place machine placement speed up to 46000 CPH.

Model:Yamaha Chip Shooter
Brief:
Yamaha S20 SMT chip mounter is a fast flexible pick and place machine, realizes a super-high speed placement speed of 45,000 CPH.

Model:Yamaha Chip Mounter
Brief:
Yamaha chip shooter used electrically driven high speed and high precision feeder, the chip shooter placement speed can up to 45,000 CPH, for PCB assembly line.