Content
YAMAHA YSP High Speed PCB Printing Machine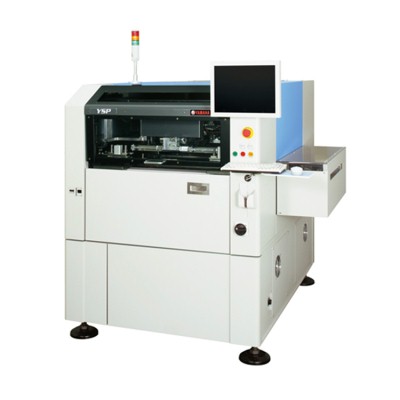 ❙ Features
1. 11 sec/cycle* Line-tact.High-speed printing capability
2. 3σ:+/-0.005mm.Repeatability of positioning
3. PSC system (PSC : Print Stability Control)
4. 3S head (3S : Swing Single Squeegee)
5. Printing attack angle variable
6. L600mm pringint area applicable.YAMAHA Dual Lane System applicable
❙ Specification
YSP(Model : KHT-000)

Applicable PCB

L510xW460mm to L50xW50mm




Applicable for printing L600mm longer area transporting L610mm longer PCB

Printing head

3S head(named after Swing Single Squeegee)




For loading squeegee, possible to choose from metal or urethane squeegee

Printing accuracy

Printing accuracy(3σ) +/-0.025mm




Accuracy for repeated alignment(3σ): +/-0.005mm

Cycle time

11.0 sec (for normal printing under our optimum condition)

Applicable stencil size

L750x W750 mm

L736x W736 mm

L750x W650 mm

L650x W550 mm

L600x W550 mm

*1

L550x W650 mm

*1

Max PCB size

L510xW460 mm

L510x W460 mm

L510x W350 mm

L330x W250 mm

L330x W250 mm

L330x W250 mm

Power supply

3-Phase AC 200/208/220/240/380/400/416 V +/-10%

Air supply source

0.45MPa

External dimension

L1,640mmxW1,640mmxH1,400mm (not include the projection)

Weigh

Approx. 1,600kg
*1

These size stencils need addition of fixing adaptor and replacement of cleaning nozzle.
❙ Related keywords
YAMAHA Stencil Printer,YAMAHA PCB Printing Machine,YAMAHA Solder Paste Printer,YAMAHA SMT Stencil Printer,YAMAHA Solder Printer,YAMAHA Solder Paste Printer Machine,YAMAHA SMT Printer,YAMHA YSP10,YAMAHA YCP10,YAMAHA YSP20,YAMAHA YSP.
❙ Main keywords
Reflow Oven,Pick and Place Machine,SMT Machine,SMT Line,Wave Soldering Machine,Reflow Soldering Oven,SMT Equipment,SMT Pick and Place Machine,Chip Mounter,PCB Cutting Machine,SMT Reflow Oven,Pick & Place Machine,SMD Soldering Machine,SMT Aoi,SMT Conveyor, SMT Solutions, Chip Shooter, PCB Cleaning Machine, Reflow Machine, PCB Soldering Machine, SMT Assembly Line, SMT Stencil Printer, PCB Reflow Oven, Reflow Soldering Machine, SMT Oven, Pick n Place Machine, SMT Production Line, Solder Paste Printer Machine, SMT Screen Printer, LED Pick and Place Machine, SMT Line Machine, LED Production Line, SMT Nozzle Cleaning Machine, LED TV Production Line.