Content
YAMAHA YSP10 Premium Solder Paste Printer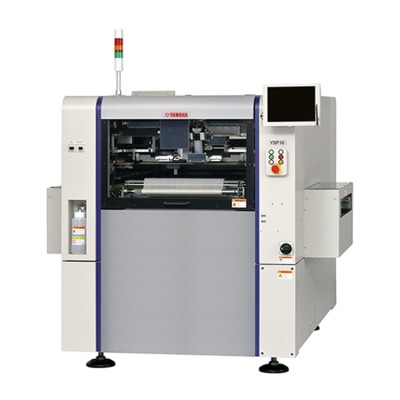 ❙ Features
1. Cycle time on the world's fastest level!
2. Supports fully-automatic stencil replacement
3. Delivers both high quality & super-accurate printing!
4. Supports extra-large boards & large-size stencils
❙ Specification
YSP10
Applicable PCB
L510 x W510mm to L50 x W50mm (option : L610 x W510mm)
Printing head
3S head (3S : Swing Single Squeegee) (option : Double squeegee head)
Printing accuracy
Positioning repeatability (6σ) : +/- 0.01mm
Cycle time
10sec (Standard printing : under optimum condition, including board transfer time and printing time)
12sec (Including cleaning : under optimum condition, including board transfer time and printing time)
Applicable stencil size
L750 x W750mm
L736 x W736mm (29″)
L750 x W650mm
L650 x W550mm
L584 x W584mm (23″)
Power supply
Single-phase AC 200 to 230V +/-20V
Air supply source
0.45MPa or more
External dimension (excluding projections)
L1,640 x W1,990 x H1,525mm (full range of options)
Weigh
Approx. 1,700kg
❙ Related keywords
YAMAHA Stencil Printer,YAMAHA PCB Printing Machine,YAMAHA Solder Paste Printer,YAMAHA SMT Stencil Printer,YAMAHA Solder Printer,YAMAHA Solder Paste Printer Machine,YAMAHA SMT Printer,YAMHA YSP10,YAMAHA YCP10,YAMAHA YSP20,YAMAHA YSP.
❙ Main keywords
Reflow Oven,Pick and Place Machine,SMT Machine,SMT Line,Wave Soldering Machine,Reflow Soldering Oven,SMT Equipment,SMT Pick and Place Machine,Chip Mounter,PCB Cutting Machine,SMT Reflow Oven,Pick & Place Machine,SMD Soldering Machine,SMT Aoi,SMT Conveyor, SMT Solutions, Chip Shooter, PCB Cleaning Machine, Reflow Machine, PCB Soldering Machine, SMT Assembly Line, SMT Stencil Printer, PCB Reflow Oven, Reflow Soldering Machine, SMT Oven, Pick n Place Machine, SMT Production Line, Solder Paste Printer Machine, SMT Screen Printer, LED Pick and Place Machine, SMT Line Machine, LED Production Line, SMT Nozzle Cleaning Machine, LED TV Production Line.