Content
YAMAHA Pick n Place Machine YSM10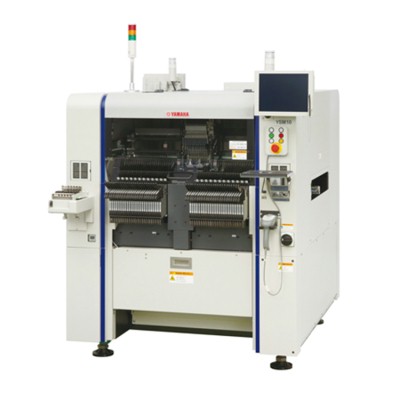 ❙ Features
1. 46,000CPH World Leading*1-Beam/1-Head Class, Entry Model Surface Mounter
2. Speed increases of 25% or more on conventional models and achieving the world's fastest* mounting capacity. HM head adopted with new scan camera for broader range of component size compatibility
4. Scalability for flexibly adjust to production site requirements
5. Enhanced functionality to provide for table production
* World's fastest surface mounter in the 1-Beam, 1-Head Class in comparison of mounting capacity (CPH) under optimal conditions. January 10, 2017, Yamaha Motor data.
❙ Specification
YSM10
Applicable PCB
L 510 x W 460mm - L 50 x W 50mm
* Consult us for board sizes exceeding dimensions L510
Mounting capability
HM Head (10 Nozzle) Spec.
HM5 Head (5 Nozzle) Spec.
46,000CPH (The Company's optimum conditions)
31,000CPH (The Company's optimum conditions)
Applicable components
03015-W 55 x L 100mm (divided recognition for over W 45mm), H: 15mm or less
* Multi camera requirement (optional) for components over 6.5mm in height, or over 12mm square in size
Mounting accuracy
(Under optimum conditions as defined by Yamaha Motor when standard evaluation materials are used)
±0.035 mm (±0.025 mm) Cpk≧1.0 (3σ)
Number of component types
Setting Plate : Max 96 types (8mm width tape feeder conversion)
Tray : 15 types (sATS 15 equipment, Max, JEDEC)
Power supply
3-phase AC 200/208/220/240/380/400/416 V ±10% 50/60 Hz
Air supply source
0.45MPa or more, clean and dry state
External dimension
L 1,254 x W 1,440 x H 1,445mm (excluding protrusions)
Weight
1,270kg
❙ Related keywords
Pick and Place Machine,YAMAHA Pick and Place Machine,YAMAHA SMT Mounter,YAMAHA SMT Pick and Place Machine,Pick Place Machine,YAMAHA Chip Mounter,YAMAHA Shooter,YAMAHA SMT Placement,YAMAHA Chip Placement,High Speed Chip Shooter,YAMAHA Chip Shooter,SMT Chip Shooter,YAMAHA SMT,YAMAHA SMT Machine,YAMAHA M10,YAMAHA M20, YAMAHA S20,YAMAHA YS12,YAMAHA YS12F,YAMAHA YS24,YAMAHA YS24X,YAMAHA YSM10,YAMAHA YSM20,YAMAHA YSM20R,YAMAHA YSM20WR,YAMAHA YSM20W,YAMAHA YSM40,YAMAHA YSM40R,YAMAHA YC8,YAMAHA ∑-G5SⅡ,YAMAHA Σ-F8S,YAMAHA YG100.
❙ Main keywords
Reflow Oven,Pick and Place Machine,SMT Machine,SMT Line,Wave Soldering Machine,Reflow Soldering Oven,SMT Equipment,SMT Pick and Place Machine,Chip Mounter,PCB Cutting Machine,SMT Reflow Oven,Pick & Place Machine,SMD Soldering Machine,SMT Aoi,SMT Conveyor, SMT Solutions, Chip Shooter, PCB Cleaning Machine, Reflow Machine, PCB Soldering Machine, SMT Assembly Line, SMT Stencil Printer, PCB Reflow Oven, Reflow Soldering Machine, SMT Oven, Pick n Place Machine, SMT Production Line, Solder Paste Printer Machine, SMT Screen Printer, LED Pick and Place Machine, SMT Line Machine, LED Production Line, SMT Nozzle Cleaning Machine, LED TV Production Line.
❙ Video