Content
YAMAHA Σ-F8S Premium SMT Pick and Place Machine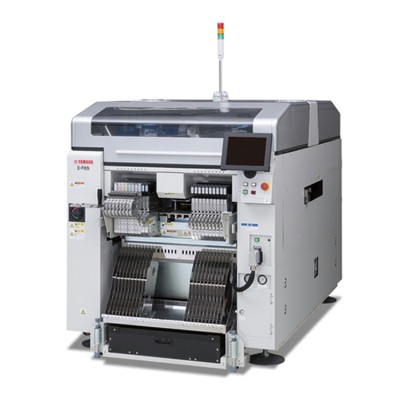 ❙ Features
1. The "1-head solution" rotary head provides. Speed, versatility and high operating ratio.
2. Fastest speed in its class! Produces 150,000 CPH with 4-beam & 4-head
3. Direct drive head gives high-speed & high-accuracy
4. The Super Loading Feeder totally innovates components supply tasks!
❙ Specification
Σ-F8S
Applicable PCB
Single lane :
 L330 x W250 to L50 x W50mm
 (Option : L381 x W510 to L50 x W50mm)
Dual lane :
 L330 x W250 to L50 x W50mm
Head/Applicable components
High-speed head :
 0201 CHIP to 4.3 x 3.4mm, Height 2.0mm or less
High-speed multi-purpose head :
 03015 CHIP to 33mm square, Height 12.7mm or less
Mounting capability
High-speed head x 4 specs :
 150,000CPH (Dual lane)
 136,000CPH (Single lane)
Mounting accuracy


(Under optimum conditions as defined by Yamaha Motor when standard evaluation materials are used)

High-speed head :
 0201/03015 : ±25μm (3Σ) (140,000CPH)
 0402/0603 : ±36μm (3Σ) (150,000CPH)
Number of component types
Max.80 types (conversion for 8mm tape feeder)
Power supply
3-Phase AC200V ±10% 50/60Hz
Air supply source
0.45 to 0.69MPa (4.6 to 7kgf/cm2)
External dimension
L 1,280 x W 2,240 x H 1,450mm (excluding projections)
Weight
Approx. 1,940kg
❙ Related keywords
YAMAHA Pick and Place Machine,YAMAHA SMT Mounter,YAMAHA SMT Pick and Place Machine,Pick Place Machine,YAMAHA Chip Mounter,YAMAHA Shooter,YAMAHA SMT Placement,YAMAHA Chip Placement,High Speed Chip Shooter,YAMAHA Chip Shooter,SMT Chip Shooter,YAMAHA SMT,YAMAHA SMT Machine,YAMAHA M10,YAMAHA M20,YAMAHA YSM20,YAMAHA YS12,YAMAHA YS12F,YAMAHA YS24,YAMAHA S20,YAMAHA YSM10,YAMAHA YS24X,YAMAHA YSM40,YAMAHA YSM20R,YAMAHA YSM40R,YAMAHA YC8,YAMAHA YG12F,YAMAHA YSM20WR,YAMAHA YSM20W,YAMAHA ∑-G5SⅡ,YAMAHA Σ-F8S
❙ Main keywords
Reflow Oven,Pick and Place Machine,SMT Machine,SMT Line,Wave Soldering Machine,Reflow Soldering Oven,SMT Equipment,SMT Pick and Place Machine,Chip Mounter,PCB Cutting Machine,SMT Reflow Oven,Pick & Place Machine,SMD Soldering Machine,SMT Aoi,SMT Conveyor, SMT Solutions, Chip Shooter, PCB Cleaning Machine, Reflow Machine, PCB Soldering Machine, SMT Assembly Line, SMT Stencil Printer, PCB Reflow Oven, Reflow Soldering Machine, SMT Oven, Pick n Place Machine, SMT Production Line, Solder Paste Printer Machine, SMT Screen Printer, LED Pick and Place Machine, SMT Line Machine, LED Production Line, SMT Nozzle Cleaning Machine, LED TV Production Line.