Detailed introduction
led panel light shooter
Flexline
Your product quality is our drive
With the Flexline you can create the ideal high quality production line for any mix, any volume, any product. The renowned AX system has been re-vamped into the next generation iX platform, ensuring full commonality with the existing iFlex and still focusing on what it does best; pick and place components at the highest possible quality levels, a requirement for industries focusing on safety, liability sensitive, life critical or high service call type of products.

Flexline exists of the following modules that can be combined into any desired production line:
iX 502 – high passive and small IC outputs up to 121,000 cph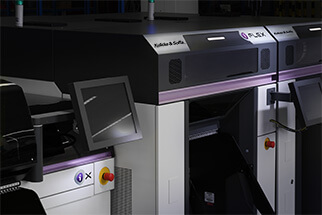 iX 302 - high passive and small IC outputs up to 79,000 cph
iFlex T4 – Dual and single lane solution with high passive and
small IC (up to 17,5 x 17,5mm) outputs up to 51,000 cph
iFlex T2 - Dual and single lane multifunctional or line-balancing solution with large component range
iFlex H1 – Dual and single lane end-of-line solution with oddform and gripper capabilities
The Flexline has an exceptional output and component range, all using Assembléon's unique single-pick / single-place concept. With its wide component range and high output, the iFlex T2 is an ideal line balancer between the high passive outputs of the iX and iFlex H1.

The Flexline pick and place process brings so much extra value, recognized by many customers.
The new iX has continuous enhancements in the total pick and place process, further introducing a new light weight feeding range with proven high field-measured pick-rates of over 99.99%, higher placement accuracies for passives (35 microns), new component range, 25% increased output for camera aligned components, new NPI features and full integration with the iFlex platform, together forming the new Flexline.